A Guide To Outsourcing Your Business IT Needs
Here at Everything Tech, we know that every business needs an efficient and responsive IT system to operate effectively. When yours isn't working, you can't communicate within the business, or with your customers. You need to be able to get your IT working again quickly to ensure that costs and lost revenues don't mount up.
As well as maintaining the system you have in place, you also need to be alert to technological and software developments that could see you slipping behind your competitors. IT develops rapidly, and it can be difficult to keep on top of the changes with so many other aspects of the business to consider. If you're a small or medium-sized business, it's rarely cost-effective to maintain your own IT department.
One solution to this set of problems is to outsource your IT.
The Benefits Of Outsourcing Your IT Department
Outsourcing your IT department brings with it a range of tangible benefits. Let's explore these in more detail:
Control your IT costs – Outsourcing converts your IT costs from variable to fixed. You'll know exactly what you'll be paying for your IT requirements without having to worry about unexpected bills. You can budget effectively and only end up paying for what you need.
Reduce labour costs – Recruiting and maintaining your own IT department is costly. Temporary agency staff may well not have the same focus or commitment to your business. Outsourcing your IT means that experienced professionals are available to work with your business as you need them. This allows you to focus your human resources where you need them most.
Qualified and experienced – if you're not IT-trained how do you ensure that someone you employ is properly qualified? At Everything Tech we employ a team of highly-qualified and experienced IT professionals who are at the disposal of the clients we work with.
Increase your efficiency and competitiveness – Attempting to take care of all the IT services in-house brings with it a range of extra costs. Outsourcing your IT allows you to streamline how you work and concentrate on your core business.
Take advantage of new technology – The range of software and technology available for businesses is constantly developing. Outsourcing your IT grants you quick access to the latest technology and ensures you're able to take advantage of any resources that may be helpful.
Manage risk – Investment in IT resources inevitably involves a range of business risks. Government regulations, compliance and competition issues can all impact on your balance sheet. When you outsource your IT needs, you also outsource the associated risks.
Compliance and security – Security breaches can be devastating for smaller and medium-sized businesses. There's a constant need to be reviewing and strengthening your business security, particularly as your business grows.
A level playing field – Development in technology and software capabilities are helping to create a more level playing field between larger and smaller companies. By outsourcing your IT, you take this a step further, allowing you to access the same kind of services enjoyed by larger companies at a fraction of the cost. A nimble, adaptive small business is then well-placed to compete with its larger competitors.
How Can IT Outsourcing Save Your Business Time And Money?
One of the main drivers motivating business owners when they're considering outsourcing their IT is the savings it can afford them. Here's how IT outsourcing manages to not only save you money and time but also to improve the quality and consistency of the IT services that you use.
Stay focused on core business – When your business is growing, the demand for IT support rises with it. This growth needs financial and human resources for it to be sustained. When you divert resources into recruiting and training internal IT professionals, you're using up resources that would be better deployed on your core business. Outsourced IT services allow you to focus all your attention on growing your core business and achieving your strategic goals.
Control IT Costs – As outlined above, when you opt for outsourced IT, your IT costs are fixed. Maintaining in-house IT can prove expensive because there are staff members to recruit and train, software to update, and hardware to maintain. When you outsource your IT, personnel costs are eliminated. IT outsourcing companies are usually able to access discounts on new software that ordinary businesses can't. These discounts are then passed on to the customer.
Plan your budget – With outsourced IT you know exactly what you will be paying, eliminating nasty surprises and budgeting issues. This helps you better manage your business finances and ensure that your IT infrastructure can be supported financially.
Only pay for the services you use – rather than hiring IT staff permanently, you are only renting the IT expertise you need as and when you need it. This is significantly more cost-effective and a much better use of your resources.
For small and medium-sized businesses there really are very few advantages to maintaining your own IT department, even if it is financially possible.
How Everything Tech Can Help
At Everything Tech, we help businesses develop and maintain the streamlined and cost-effective IT systems they need. We help small and medium-sized companies maintain healthy continuity and growth by freeing up their personnel to concentrate on their core tasks. While we look after your IT systems, you can focus on growing your business.
Over the past ten years, we've grown from being an IT support service to a managed IT provider. This means we are a comprehensive replacement for a full-time IT manager, IT director or IT team.
In short, we take ownership of your IT system and help develop and maintain the technology in your business and ensure we're on hand to fix things when they are broken. We tailor our services to the size and needs of your business, creating the ideal IT system for your specific requirements. Our knowledge and expertise are then on hand whenever you need it.
What Do We Do Differently?
We like to think we're different from other IT providers. And that's no idle boast. Our team of highly-skilled and experienced IT specialists are the best at what they do. They take their time to get to know your business, understand how it works and what you hope to achieve.
They aim to develop a comprehensive understanding of everything you do and then look at how they can support you. We're also proactive, rather than just being on call to fix things when they are broken, we make a monthly visit to every client to see how things are working.
We address any issues that might have arisen, as well as looking at how we can help you improve your business further. As well as being technical experts, we see ourselves as business enablers.
The most advanced tech in the world is useless if it isn't serving a purpose. The solutions we develop are all about helping your business thrive and grow. Our technical team are not only incredibly knowledgeable, but they are also skilled communicators. They won't baffle you with jargon, instead, they make sure you understand what needs to be done.
When you outsource your IT to Everything Tech, you're gaining access to your very own IT department. We have a range of skills and a wealth of knowledge that is at your disposal. We work hard to build strong relationships with our clients, which is one reason why we make regular visits.
We take a three-step approach to deliver the best service for your business.
Assess & Stabilise – Firstly we look at what you have in place and how we can get your business to a stable place. We then look to implement a package of ultra-stable, hassle-free technology to help your business. We start with an audit and produce a review document.
Change & Improve – Secondly, we use our skills and experience to find and implement technology that will help your business get ahead. We can digitise paper-based processes and implement a full digital transformation.
Support & Maintain – Once we've implemented your new IT, we'll then provide an elite level of support to help you maintain it. We use our sophisticated suite of monitoring and control products to give you the most stable and consistent IT infrastructure you've ever had. Our monthly report will help us identify issues before they arise and help with training needs.
Every company likes to think they're different and offer a superior service. In our case, we believe we have the track record to back that up.
The Services We Offer
We've been delivering market-leading IT support services to clients in Manchester and across the UK and Ireland for over ten years. Our managed IT services offer real, proactive support, solving any potential issues before they have a chance to impact on your business. We help keep your business secure and source technology that will help you stay ahead of your competitors. We provide you and your team with agile solutions to increase your business flexibility and resilience. We bring the same enthusiasm and commitment to each client, whatever the size of their business.
Here's what we can offer:
IT Support
We offer comprehensive IT support services to small and medium-sized businesses across Greater Manchester. We love to see businesses in our home city prosper, and we help them do that by providing tailored IT support that allows them to concentrate on achieving their goals. Small and medium-sized businesses are the engine room of the city economy and our hands-on technical support helps them to grow and achieve their goals. Our support team will get to know your business inside and out.
We strive to understand what you want to achieve with your IT and then look at how we can maximise what you get for your budget. If you have a particular business development goal you'd like to meet, then we look to see if there's an IT solution that can help you to achieve it.
If you're looking for basic support with setting up equipment, maintaining a system and tackling those frustrating IT issues as they arise, then we're on hand to help. Using Everything Tech as your outsourced IT service gives you your very own dedicated IT department at a fraction of the cost.
Managed IT Security
Business security is vital. Without it, you're not only vulnerable to expensive system failures and the loss of revenue, but the future of your business can also be jeopardised. When you handle customer data, a security breach can cost you vast amounts of trust and goodwill.
As well as your bottom line, your business reputation depends on good security. Despite this, only 31 per cent of UK businesses have undertaken a cyber-risk assessment in the past 12 months. This is something that we would aim to remedy as to a key priority.
Security challenges are developing all the time and in a small to medium-sized business, it can be difficult trying to remain on top of them. At Everything Tech, we provide world-class security and threat monitoring services.
We can help keep your business safe and functioning while giving you valuable peace of mind. We do this through proactive monitoring to prevent problems occurring, rather than just dealing with emergencies once they've already happened. Managed security services save you money, can be scaled up as your business grows, and allow you to concentrate on the aspects of your business that matter.
Our fast response times mean that should a problem arise, then we'll be on hand to put things right very quickly. There's no need to waste time trying to find the support you need. Our proactive service means that you're less likely to need emergency help.
Backup And Disaster Recovery
Server failure, loss of internet connection and accidental deletion are all more common than most business owners imagine and their impact can be catastrophic.
Could you afford to lose a day of output? What happens if one day becomes two, or even a week? If you lose valuable work or the ability to run your business, the effects can be devastating.
At Everything Tech, we gain new clients every month and at the start of each new relationship, we fully audit each business and sometimes uncover issues that could put them in serious jeopardy. Whether it's ensuring that client data is properly backed up and secure or spotting potential issues before they arise, we protect your business from damaging IT issues.
IT Training
You can have the fastest, most flexible and up-to-date technology out there, but if you don't know how to make the most of it, then you're probably wasting money. We provide bespoke IT training to help your business fully utilise the technology you have at your disposal.
Our Office 365 course is currently the most popular, helping clients get the most from the vast catalogue of resources that come free with the product.
We're currently offering the following courses:
Outlook – Tips, tricks and how to become more productive.
Microsoft Teams – Introduction and the basics of collaborative working.
Microsoft Teams – Using the telephony system.
Microsoft Office 365 – What can it do for me?
Microsoft OneNote – Go digital and ditch the paper.
Windows 10 – All the basics.
Things To Consider
Efficiency is at the heart of every business. Outsourcing your IT gives you a level of expertise and cost-efficiency that can rarely be achieved by small to medium-sized businesses if they try to keep it all in-house.
Is outsourcing completely straightforward and always the best option for every business?
There are a few points you might want to consider before deciding to leap. If you already have IT support in-house, their morale may be affected. What will be their role once the outsourcing arrangement has begun? It's important to communicate your reasons for opting to outsource, why it's important, and how they will fit into the new arrangement.
Reassure them that their role in the company is not in jeopardy. Some may argue that a certain amount of operational control is lost when you outsource your IT. While some companies are happy to hand over responsibility for non-core business functions, some prefer to retain full control. Be honest about how much control you want to retain over IT support operations and be clear with your outsourcing company from the start.
Your IT support partner will be given access to a wide range of key data and information about your company and your clients. You will need to be comfortable with that, and confident that your outsourcing company will handle the information they're party to with sensitivity and due diligence.
Keeping good channels of communication with your outsourcing company is vital. Make sure you understand how you can contact your IT outsourcing company. It's no good handing over your IT outsourcing to a company that works radically different hours to your own, operates in a different time zone or has language barriers that make communication difficult.
It should go without saying that one issue that you always need to consider is the quality of the service that you will receive. At Everything Tech, we're experienced at dealing with any concerns potential clients might have. If you're considering outsourcing your IT, why not get in touch and speak to us. We can answer any questions you might have, address your concerns and help you decide if outsourced IT is the right solution for your business.
Is Outsourcing Right For Your Business?
We strongly believe that IT outsourcing can provide real benefits to most businesses.
The key question to consider is whether activities currently carried out in-house would be more efficiently done through outsourcing.
Outsourcing your IT can free up human resources for more creative and income-generating tasks. Ask what your company goals are, how you hope to achieve them and how IT outsourcing may enable you to grow your business.
Our experienced team will be happy to answer your questions, find out more about your business and give you honest advice about how we could help. We don't believe in selling IT outsourcing to companies who we don't feel it would properly benefit. Our service is built on good relationships with clients whose businesses we are passionate about.
The Businesses We Work With
We're proud to provide businesses in our home city of Manchester with world-class IT outsourcing services. We work with a wide range of companies in very different industries, be they legal, leisure, catering, marketing or any other.
Our clients include Umbro, Argyll Holidays, Sheldons and Buffalo 7. Some of the most exciting and ambitious names in Manchester business trust us to take care of their IT systems so they're better able to concentrate on achieving their core business goals.
Whatever the size of your business, the scale of your ambition or the industry you work in, we can provide you with a truly bespoke IT outsourcing package.
Meet The Team
We're proud of the team we've put together at Everything Tech. We have a range of experienced tech and support professionals working for us, all of whom are committed to helping you meet your business goals. We work hard to provide the highest standards of customer service throughout everything we do. When you contact us with a problem, our first line team will quickly get to work finding a solution.
They resolve more than 100 queries every day and pride themselves on getting our clients back to work as quickly as possible. When a problem presents a greater set of challenges, then our second line support team steps in to handle the escalation. Its members have at least five years of experience working with the technology you use and all have Microsoft certification that recognises their skills. Our third-line team includes some of the most highly qualified and experienced professionals in the industry.
When you outsource your IT to us, they're the ones who come closest to filling the role of your internal IT manager. They've never met an IT problem they couldn't fix and they're continually looking for ways to improve your business through the intelligent use of new technologies. At the core of the business is our admin team. They handle everything from accounts and finance to making sure everything is kept up to date.
They're the ones who provide the vital services that enable our tech teams to deliver the world-class service that they're famous for. Our directors, Anthony, Ruth and Lee oversee the Everything Tech operation and make sure that we're living up to the high standards that we set ourselves.
Get In Touch
If you'd like to find out more about how our IT outsourcing services can help your business thrive and grow then get in touch. If you have an immediate problem that needs attention, we'll happily fix it for free to showcase our skills. Contact us today to discuss your requirements in more detail.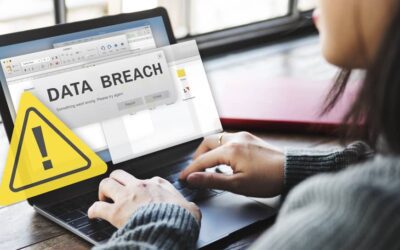 When discussing data breaches, it's common to only refer to the data or "records" that were exposed. However, there is also a very real monetary cost to any data breach which is not always considered. Why Do Data Breaches Happen? There are three main categories of...