How proactive monitoring works to reduce business downtime
Downtime costs businesses money, customers, productivity, and even their reputation. Are you proactively protecting your business from downtime?
The effects of business downtime can be catastrophic, and yet many businesses are still making the mistake of being reactive to problems on their systems rather than proactive.
Your business' networks, data centres, computers, security and servers are essential to its functioning and should be protected accordingly.
Rather than waiting for an issue to occur, using proactive performance monitoring technology can minimise downtime and the costs associated with it.
A proactive monitoring service will put your mind at rest that you will be notified as soon as any issues arise to prevent or reduce the scale of damage caused by downtime.
What is proactive monitoring?
Proactive monitoring is used to constantly monitor and test business systems and network performance. 24/7 proactive monitoring helps you to avoid small issues going unnoticed and resulting in business downtime. When problems arise, the monitoring system will alert you straight away by text message or email, allowing you to react quickly to prevent or minimise disruption.
Investing in system monitoring is a way of preparing and protecting your business from future issues. Without a monitoring system you are only able to react to threats once they are already upon you, by which time it could be too late.
How does proactive monitoring reduce downtime?
Detects and alerts you of problems early on
Usually, there will be signs of a problem prior to a whole system or network going down. In some cases, when your monitoring system detects an issue early on, it is possible to get the problem fixed before it snowballs and brings the whole system down.
24/7 monitoring
Proactive monitoring means that you can rest assured that any issues will always be detected quickly, even if they occur outside of normal working hours. Without proactive monitoring, if a problem arises during the night it may be that it is not picked up for many hours. This can mean that a simple problem that could have been isolated and fixed if picked up early on, then becomes a major crisis causing expensive downtime.
Helps your IT team learn and prepare
The information gathered by proactive monitoring will give your IT team a greater understanding of the way your network and systems are performing. Learning more about your network will allow your team to constantly make improvements to improve reliability and avoid downtime. The information can also be used to make crisis response plans more effective and efficient.
Even with the best monitoring, downtime can still occur from time to time.
As well as being extremely costly to your business, it can also have implications for your customers. Negative customer experiences have an adverse effect on your business' reputation and profits, so keeping downtime to a minimum should always be a priority.
For more information about the proactive monitoring services that we provide here at Everything Tech, please get in touch with one of our experts by giving us a call on 0161 826 2220.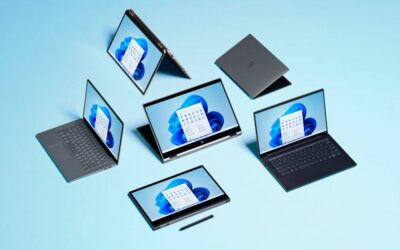 At the end of June, Microsoft announced the release of Windows 11. A couple of weeks later, they followed up this announcement with the surprise introduction of Windows 365, a subscription service that takes the operating system to the cloud. These are designed for...