IT Support Retainer
Technology, software, and other internet-based platforms are the lifeblood for a wide range of businesses. The ability to use computers and devices to provide goods and services are key and, if these systems go wrong, and potential issues aren't managed, then time, money, and reputation can be lost. Here at Everything Tech, we understand more than most the importance of critical IT systems and the need for a business to keep them secure, and problem-free. This deep level of understanding is why we offer comprehensive IT support retainer services and solutions that ensure all facets of your IT architecture are secure, optimised, and being proactively monitored by a team of experts.
By opting for a retained service you can rest easy, and focus on your customers and other business activities, safe in the knowledge that you'll always have access to an office filled with experts monitoring your IT setup, and making sure you've always got the most up-to-date operating systems and products for your business. This kind of constant system monitoring, and real-time support, will give you an edge, and ensure you're always ahead of your competitor's thanks to proactive guidance and maintenance.
If you'd like to learn more about why retained services can benefit your business in the long-run, be sure to check out this page. Alternatively, if you already know about the benefits and are interested in working with a managed IT service team such as Everything Tech, then please get in touch with us by phone on 0161 826 2220 or fill out the enquiry form above and a member of our team will be in touch with you. We've worked with plenty of companies across the north-west, and the UK, in areas such as Bolton, Altrincham, and Salford, so no matter where you are, we're confident we can help.
More About Our IT Support Retainer Services
As we're all too painfully aware, technology issues can strike at the most inconvenient moments, and especially now, in a world where remote working is commonplace, the reliance on tech has never been greater. With team members largely working from spare rooms there is no longer that immediate IT assistance available, this can cause productivity levels to drop leading to a waste of precious working hours. Similarly, if a proper IT infrastructure is not in place, staff could be made to rely on old business IT equipment, or their own devices and Wifi, which may not be up to the cybersecurity standards found within a business's own internal IT systems. 
All these problems may seem distant and far away but when they affect your business, they can suddenly become your main priority very quickly. Thankfully, by investing in a managed IT service team, on a retained basis, you can simply pass these issues onto our three lines of defence whose sole job it is to help you fix these problems. And, because we'll have all the vital information about your business IT systems on our records, we'll be able to quickly and efficiently solve the problem, without having to waste time asking preliminary questions about your operating systems, current security solutions, or network login details.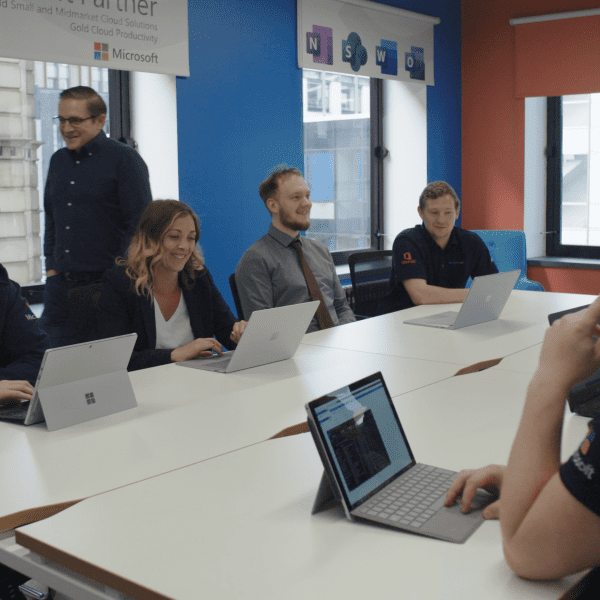 The proactive nature of our retained service is something that is loved by our clients across several industries, such as manufacturing, architecture, and solicitors. By being proactive we can spot small problems and fix them, and, as well as that, we can also inform you of new and exciting software, and devices that we think will be of benefit to you. The technology market is vast and oftentimes confusing but thankfully, our experts can pinpoint the exact products, tools, and solutions that you may benefit from immediately. This Just Add Staff service saves you the hassle of having to keep up with demanding changes in technology – a necessity given the high levels of competition found across industries.
All in all, managed IT services, on a retained basis, makes complete business sense and should be considered by most organisations. From low monthly costs to the regular system and hardware updates, and super-fast response times – the benefits are thorough and wide-ranging, just like our services here at Everything Tech. To learn more, get in touch by phone on 0161 826 2220
Benefits Of Retained Services For Businesses

Value for money
For one monthly fee per user, you can enjoy a comprehensive range of services that, individually, would cost far, far more. 

Work with experts
Finding, interviewing, and recruiting an in-house IT team is expensive, with no guarantee of long-term success. Instead, you can just give us a call and we can sort it all for you for a fraction of the cost.

Spot problems early
Prevention is better than the cure, our team will scan your systems regularly and make small adjustments when needed to avoid them becoming larger, more detrimental issues.

Access to cutting-edge tech
We can provide your entire businesses with the latest tech and IT training so that you can take advantage of new devices that increase quality and efficiency, without the hassle of going out and finding the right products yourself.
Get In Touch To Learn More
We hope this page has emphasised the benefits and importance of choosing to invest in an IT support retainer. From Altrincham and Bury, right the way through to Rochdale and Wilmslow, we have helped countless companies in industries such as accountancy and engineering and would be delighted to assist you with comprehensive, knowledge-led IT support. Simply fill out the contact form on this page, or call us on 0161 826 2220